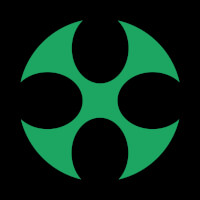 Is Reyllen Fitness The Best Grips For CrossFit?

Can't find a fitness grip that fits your palm? Looking for a better fitness grip option that can meet all your needs as an athlete, or a crossfitter? If this is your struggle, try Reyllen Fitness. Reyllen Fitness grips are considered the best grips for CrossFit on the market, and there are reasons for that. Let's find out together in this Reyllen Fitness grips review.
[table_content]
What is Reyllen Fitness?
Reyllen Fitness is a business specializing in supplying equipment for functional fitness in general and the sport of CrossFit in particular. The brand was founded on the principle of inclusivity, which basically means you can find any fitness equipment that meets your needs, allowing you to become a better athlete.
Reyllen Fitness' beginning was very modest. The brand started by selling only Flare Original Jump Ropes and Mobility Bands. With the success of these product lines, Reyllen Fitness decided to go further by introducing more and more of its self-designed fitness equipment. 
Above all, the introduction of Reyllen Fitness Grips has helped solve the lack of gymnastics grip options in the market. This product line has soon been considered the best grips for Crossfit for exercisers of all levels or ages. Designed by athletes, for every athlete - that's the motto of Reyllen Fitness.
Reyllen Fitness grips review
Among the countless fitness grip options out there, what makes Reyllen Fitness Grips the best grips for Crossfit? Let's dig deeper into this Reyllen Fitness grips review to find out.
Materials
Reyllen Fitness pays great attention to the material used in the production of its grips. This is indeed one of the biggest plus points of this brand.
Reyllen Fitness currently utilizes 8 different types of grip materials, and each has specific characteristics and uses:
BUMBLEBEE™: One of the brand's iconic materials. It has a soft feel with slight elasticity and compression, ensuring good protection and a natural feel of the bar.
BUMBLEBEE™ RX: This material comes at 3mm thickness, about 1.2mm thicker than the BUMBLEBEE™. This material serves the sole purpose of providing extra protection, ideal for athletes who prioritize safety.
PANDA™: PANDA™ is a stiff, incredibly durable material that can hold its shape very well. It does not stretch or compress over time, providing better performance even during intense training. PANDA™ is the perfect balance between grip, protection and durability.
PANDA™ SOFT: The Panda Soft is extremely soft and elastic. Athletes with smaller hands will love the Panda Soft, since it can be used as a second skin for gymnastic movements, providing a natural feel and dexterity.
GECKO™: Reyllen Fitness currently utilizes 5 different types of grip materials, and each has specific characteristics and uses. Containing a dual layer of 2mm carbon/microfibre composite fabric, this material feels a lot sturdier than the rest of the models.
GECKO™ RX: An advanced blend of vinyl carbon and microfibre backing, with superior shape retention. The GECKO™ RX is very effective at retaining chalk, making it work perfectly on powder coated bars. The GECKO™ RX can add grip on slippery bars, so it's very suitable for competition.
MERLIN™: This special marine rubber is designed to retain chalk and improve grip on any surface. This trait makes the MERLIN™ material ideal in low-moderate rep volume competition environments.
GREYHOUND™: This material belongs to the same family of materials as the Panda or BumbleBee. The GREYHOUND™ also works very well on powder coated bars, and is often used for all-round training.
Features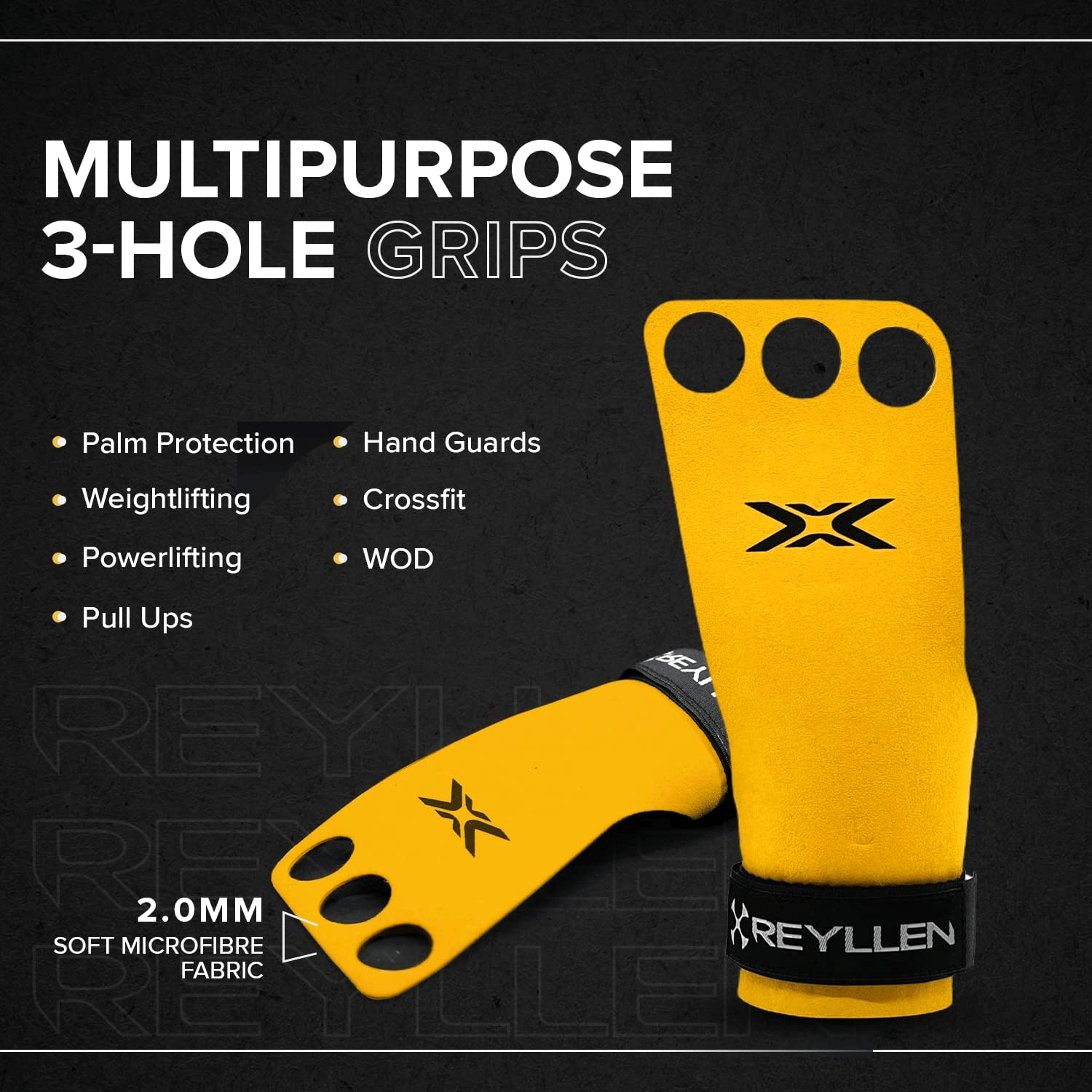 Reyllen Fitness Grips come in two main options: fingerless grips and 2-hole/3-hole grips. Each of these options has different features suitable for specific uses.
Fingerless grips are featured with a feedback driven design, allowing for fast transitions. This feature works well with classic grip (thumb-under-bar grip), so crossfitters with this type of grip can benefit a lot from the Fingerless feature.
The 2-hole/3-hole grips include protection features that minimize interference to the middle portion or entire palm. With these features, your fingers will be ensured maximum natural dexterity for any CrossFit movement. At the same time, the 2-hole/3-hole grips also provide excellent palm coverage for maximum protection and stick adhesion.
Different features suit different fitness uses. Therefore, you should go for the ones that meet your CrossFit needs in order to maximize the benefits of the product.
Pricing
Reyllen Fitness currently offers over 20 different grip models, and they're all divided into specific categories for easy search. Prices vary depending on the use of materials and features included; however, the price difference is not significant.
Reyllen Fitness Grips are available from £16.99, £22.99, £32.99, and up to £37.99. Among these, grips made of MERLIN™ X4 and GECKO™ RX are the most expensive ones. This is not much of a surprise, since these grips are used a lot by athletes for competitions.
With other models, the price difference is about £6, which is not really a big deal. Each model is good in its own way, so this price difference doesn't say much about which models are worse than the others
Reyllen Fitness also offers a lot of price support through a variety of fitness gear discounts. A lot of Reyllen Fitness discount codes have been rolled out to help customers access the brand's products more easily, so you can utilize them to get better prices. Tenere does have a complete guide on where to find discount codes from Reyllen Fitness and how to use them, so make sure to check it out.
Shipping & returns
Regarding shipping, Reyllen Fitness does offer worldwide shipping, so you can enjoy Reyllen Fitness grips and CrossFit equipment from anywhere.
For UK domestic orders, it will take around 1-2 business days for Reyllen Fitness to process and ship. Orders above £40 will receive free standard 48-hour shipping.
For orders to Europe, USA, Australia, Canada, and the rest of the world, it will take around 7-11 business days for processing and shipping via standard shipping methods. Shipping time can be reduced to 2-7 business days if you choose the DPD International or DHL Express shipping options. If your order is over £75, you will get free world standard shipping.
If you're not 100% satisfied with what you get from Reyllen Fitness, you're allowed to return the item within 30 days of receipt for a refund or exchange. 
Your item must be returned in the original condition in which you received it and with the original packaging to be accepted. Receipt or proof of purchase is also required to complete the return.
If your return is approved, you will be refunded with a credit automatically applied to your credit card or your original payment method.
Reyllen Fitness grips alternatives
Even though Reyllen Fitness Grips are considered to be one of the best grips for Crossfit on the market, there are definitely some crossfitters looking for more options to experiment with. In order to bring people the most unbiased assessments, let's continue this Reyllen Fitness grips review with some alternatives to Reyllen Fitness grips that you can refer to.
​​PicSil Grips:

The best alternative to Reyllen Fitness. ​​PicSil also offers a variety of grip models with diverse features, suitable for both beginners and elite crossfitters. PicSil RX and PicSil AZOR are the two most prominent product lines of the brand, and they are available for around €25.9 to €37.95.
Bear Komplex:

When it comes to grip selection, Bear Komplex is a bit limited compared to Reyllen Fitness. Nevertheless, in terms of quality and features, there is nothing to complain about. Lightweight, breathable materials and diverse built-in comforts - these are the traits that make Bear Komplex grips one of the ideal alternatives to Reyllen Fitness grips.
WOD Nation Leather Palm Grips:

WOD Nation only offers one grip model, so you can only choose between the given sizes and colors. What makes WOD Nation grips a great choice is that they're made of leather and nylon. This combination ensures maximum comfort during your CrossFit session without compromising too much on endurance and performance.
Here are some of the best grips for Crossfit besides Reyllen Fitness that you can consider. Take a close look at each of these options in order to get the best option for your CrossFit needs.
The verdict
High-quality equipment makes for high-quality fitness sessions, and at Reyllen Fitness, you will be provided with the best grips for CrossFit on the market. Hopefully, with this Reyllen Fitness grips review, you're now crystal clear on what makes Reyllen Fitness grips special, so you can make the most informed decision. Visit Reyllen Fitness today, and don't forget to utilize all the Reyllen Fitness promo codes provided.